At the beginning of the Revolutionary War, Rutgers (then known as Queens College) was in its infancy. With the occupation of New Brunswick by the British at the time of the war, Queens college carried on its work at other locations. Many of the students and faculty become involved in the revolution at one point or another. Later, many of those associated with the college became known for their activity in the federal and local governments; others were chiefly noted for their patriotic activity. Simeon Dewitt, class of 1776, became the Surveyor General of the United States and mapped areas for George Washington during the war. James Schureman, class of 1775, fought beside John Taylor, an early tutor of the college, and later became a member of the U.S. Congress. Many of the early students either became involved in politics, law, or preached.
A Beginning
While the Charter for Queens College was drawn up in 1766, it wasn't until 1771 that teaching began. Part of the delay was caused by disagreement about where the college should reside. Though Queens College's was established in New Brunswick, other sites such as Hackensack New Jersey were considered.
The first building of the College was at the corner of French and Kings streets, now Albany and Neilson. Before the building was used for the college, it was a tavern: "The Sign of the Red Lion." (see Right)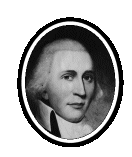 The first tutor of the college was Frederick Ferlinghuysen John Taylor, having graduated from Princeton with Ferlinghuyesen, also came to the college to teach. In the first graduating class of 1774, " Mathew Light, was the only Candidate for the Degree of Bachelor of Arts. Matthew later studied theology and became a trustee of the college in 1783." The senior class that attended Matthew's graduation included David Annon, Jasper Farmer, James Schureman, John Van Dyke and Samuel Vickers.