Effects of War: Smallpox
As food and other supplies diminished, people's immune systems were compromised and were left even more vulnerable to Smallpox.
Some people chose to be inoculated
, but initially such a measure was prohibited by Provincial Council orders
. These orders were eventually repealed when the value of the inoculation became apparent.
With General Howe's stronghold in New Brunswick, students of Queens College reconnoitered at an abandoned church at North Branch where classes continued under the tutelage of John Taylor
. Even after General Howe's withdrawal of troops from New Brunswick in June of 1777, classes continued at other locations. One location included the Van Harlingen House.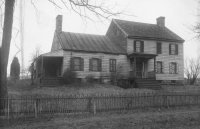 Van Harlingen House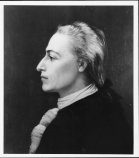 John Taylor
News of the war traveled to those at North Branch, sometimes in letters from friends. John Bogart received several from Simeon Vanartsdalen of North Hampton, Bucks County, Pennsylvania.
Near to the Delaware River and above Philadelphia, Simeon tells of residents moving their belongings across the river
and the unlikelihood of Washington attacking Philadelphia
. After Washington's surprise attack on Germantown on October 4, 1777, Simeon writes that he expects the troops from White Marsh and Edge-Hill will move to Germantown for better quarters
.