Twenty-fourth New Jersey Book Arts Symposium
Art Wave
November 2, 2018
Alexander Library, New Brunswick
Special Collections and University Archives, New Brunswick Libraries, are pleased to present the twenty-fourth annual New Jersey Book Arts Symposium, Art Wave, featuring seven artists who work with books, readings by book artist/writers and artist/poet collaborators, a morning workshop conducted by Shellie Jacobson, an on-site artists' collaboration organized by the 2018 NJBAS Artist-in-Residence Sarah K. Stengle, and a pop-up exhibition curated by NJBAS curator Amanda Thackray. Art Wave is a full-day event (8:00 AM - 5:00 PM) on November 2, 2018, at the Alexander Library, New Brunswick, N.J.
The NJBAS 2018 featured artists include Golnar Adili, an Iranian-American multidisciplinary artist based in Brooklyn, New York, whose work is highly influenced by growing up in post-Iranian Revolution in Tehran and issues of displacement. In 2009 she won a Fellowship in Printmaking/Drawing/Artists Books from New York Foundation for the Arts. Asha Ganpat is a multidisciplinary artist who was born in Trinidad, W.I. and currently lives/works in New Jersey. Ganpat has shown at institutions such as the Brooklyn Museum of Art, the Instituto di Cultura, Exit Art, the Noyes Museum, the Queens Museum, the Jersey City Museum and the Nathan Cummings Foundation.
Amos Paul Kennedy Jr. is an American printer, book artist and papermaker best known for social and political commentary, particularly in printed posters. One critic noted that Kennedy was "...unafraid of asking uncomfortable questions about race and artistic pretension." In 2015, Kennedy was honored as a United States Artists Glasgow Fellow in Crafts and received a $50,000 unrestricted prize. Catherine LeCleire teaches printmaking and book art techniques at Pratt Institute, Brooklyn, New York, and Montclair State University, Montclair, New Jersey. She has shown nationally and internationally and In 2008, LeCleire was the first artist to be awarded a residency through the Adolph Konrad Endowment from the Printmaking Center of New Jersey.
Warren Lehrer is an American author and artist/designer known mostly for his highly visual books and multimedia projects. Lehrer came to prominence in the 1980s and 90s for his attempts at capturing the shape of thought and speech on the printed page in his books and performance scores characterized by polyvalent narratives and expressionistic typography. His most recent book, A Life in Books: The Rise and Fall of Bleu Mobley (Goff Books, 2013), is an "illuminated novel" that contains 101 books within it. Working from her studio in Hoboken, New Jersey, Anna Pinto does freelance work for private clients as well as many cultural, corporate, and educational institutions. Her work has been seen in publications that range from Artist and Alphabet: Lettering Art in the Twentieth Century (Godine) to Drawing Dimensions: a Comprehensive Introduction by Cynthia Dantzic (Prentice Hall) and as props in films such as The Immigrant, True Story and The Marvelous Mrs. Maisel. Jean Stufflebeem is a fiber artist based in Watchung NJ who makes prints, sculptures and books. Her passion for using paper pulp as an expressive medium springs from her aesthetic and spiritual connection to the physical universe we inhabit. Anchored in respect for materials and processes, her work dives into the struggle afoot to save the planet. ARTIST-AUTHORS: The artists reading part of the program will include Warren Lehrer and China Marks. Marks earned a BFA in Sculpture from the Kansas City Art Institute and is known for her large drawings, which she makes with the use of a sewing machine. She has won numerous grants and awards, including three fellowships from the New Jersey State Council on the Arts, a Mid-Atlantic Arts fellowship, two George Sugarman Foundation grants, three New York Foundation for the Arts fellowships, most recently in 2017, as well as a Pollock-Krasner Foundation grant in 2013.
The day will also include a response to the artist presentations by one of the founding members of the New Jersey Book Arts Symposium, artist Judith K. Brodsky, and conclude with the customary Book Arts Jam.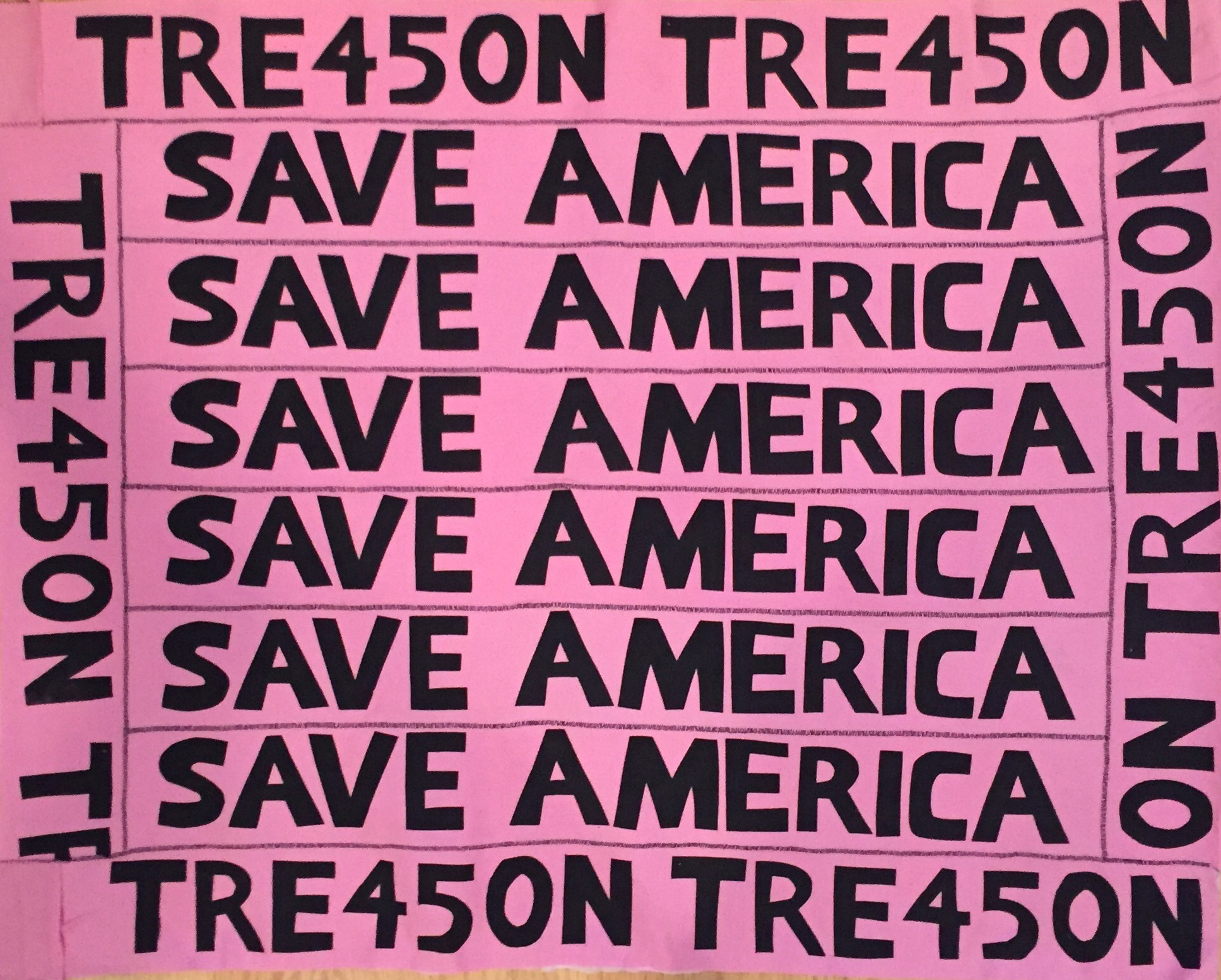 Video
Video of the day's events in The Rutgers University Libraries' digital repository, RU-CORE